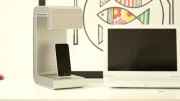 One of the best designed smartphone docks comes back in 2015 with even more features and more choices to choose from. i-Speaker Light is the perfect companion for any modern user to use in the home or office, or even at your local business establishment.
Seoul, South Korea, June 22, 2015 (Newswire.com) - Smartphone users purchase mobile accessories like sneaker heads purchase sneakers. The accessory market is overrun with accessories like speakers, cables, Bluetooth devices, etc. However, buying them all can be costly and often cumbersome making space cluttered and unorganized. What if there was a device that could solve these problems? What if there was a multi-functional accessory for mobile devices?
Starting in 2009, i-Speaker Light received a lot of praise from the tech community for its innovative design and was labeled one of the top 10 iPod docks for gadget geeks, one of the best 15 designed iPod and iPhone docks. Even the famous Kanye West posted about it on his now defunct blog.
Restarting in 2015, i-Speaker Light comes with many upgraded features since its original design in 2009. The revamped i Speaker Light now comes with a built-in phone dock, Bluetooth speaker, bedside lamp lightning, 7 different LED color options, and can be used in any space. The perfect device for your bedroom, office space, living room, café, etc. It can be used for reading in bed, or for setting the mood. It's touch on/off gives users convenient access for 4-step dimming and an additional sleep timer allows up to 30 minutes for the lamp to turn off automatically. i Speaker Light is compatible with Apple's lightning cable and any Android smartphone.
The device also comes with an extra USB port in the back to allow charging of larger devices like tablets and has a higher amp rate than the standard phone charge port.
It's been 6 years since the first i-Speaker Light model was designed in 2009, and ZED has revised the speaker to meet the standards of 2015. A newly integrated digital amp also boosts the audio quality, giving you excellent sound quality from a not so expensive speaker.
Check out their Indiegogo campaign here.
Share: