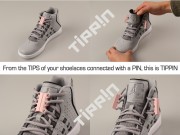 A fashionable and convenient magnetic enclosure for shoelaces that gets rid of messy tying, knots, or leftover laces leaving a simple, clean, and fashionable design
Seoul, South Korea, March 23, 2015 (Newswire.com) - The invention of the modern shoelace can be traced back to almost 3500 BC in a province in Armenia. The shoe was a single piece of leather with a crude version of what people use today to lace up every morning. The laces of today, as we know them, can be traced back to modern times to medieval footwear in the 12th century. Not much has changed since then besides making laces in different sizes and shapes and colors depending on the shoe type. There are bright and resistant laces for sneakers, or more proper leather laces for dress shoes, and then the always rugged laces for hiking or combat boots. And they come in all shapes and sizes. Regardless of the type, all laced shoes must be put on and taken off in the same fashion; by hand.
With so many different types of shoes out there, issues or annoyances can come up when dealing with long laces. Alternatives were to double knot them and prevent them from unraveling, or tying them on the inside of the tongue to prevent someone from stepping on them accidentally. Taking off shoes without untying them will inadvertently loosen them as well. Something that cannot be prevented. Using TIPPIN will prevent laces from stretching out and becoming loose.
TIPPIN brings the next evolution of shoe laces by incorporating existing laces with a new method of opening and closing laces. Since the addition of Velcro to shoe ware, nothing has changed the modern shoe ware market like TIPPIN. Instead of tying up laces, the top portion of the laces are inserted into TIPPIN on the left and right side of the shoe tongue. Once inserted and tied off, the laces are snapped together by powerful neodymium magnets in the middle. TIPPIN can be applied to almost any shoe including sneakers, dress shoes, high-tops, boots, etc.
Strong enough to run with, TIPPIN will keep shoes closed tightly, but easy enough to take with little effort. Just step on the heel of the opposite shoe and pull your foot out.
For more information on TIPPIN, check out their Indiegogo Campaign here.
Share: