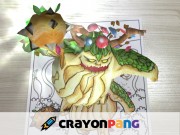 Bring characters to life with augmented reality technology and give children an interactive coloring experience that they will never forget. Each one of Crayonpang's characters can be customized in color and has unique and interactive features.
Seoul, South Korea, July 6, 2015 (Newswire.com) - Coloring is one of the most age old past times of children since the 19th century.  But not much has changed since then. With the introduction of smart devices, children were able to play games on them directly, which is a great feat, but taking away from good old fashioned coloring with your hands. Crayonpang combines the traditional art of coloring with the modern world of smartphones, tablets, etc.
It allows children the chance to see their colorful drawings and see them come to life right before their eyes. Sure, other games allow customization of characters and interaction, but Crayonpang is the first interactive augmented reality application that allows children to color in characters by hand and then see them turn into 3D characters instantly. The color choices? Limitless. Simply color in the characters, use the app to focus on the image, and that's it. The character will turn into a 3D character on the devices screen and each character comes with pre-programmed behaviors and actions.
With Crayonpang's existing catalog of 40 characters, they hope to raise enough funding to publish a full-scale book with even more characters and more animations. There are even easter egg animations hidden throughout their catalog.
Crayonpang hopes to make the application interactive with other Crayonpang users in the future so that one child's art can interact with that of another's. Crayonpang Friends is currently in development and will be the next phase for the application as the company continues to grow.
The Crayonpang app is currently available with iOS 8.0 and above and Android 4.1 and above.
Check out their Kickstarter campaign currently being run here.
Share: