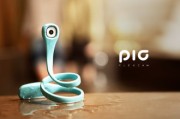 Flex Cam PIC represents the new age in the action camera arena that allows people to record photos and videos anywhere, anytime and attached to anything. Its flexible body allows users to capture film and video from any angle whether its standing still or on-the-go.
Seoul, South Korea, April 21, 2015 (Newswire.com) - The influx of portable camcorders and cameras is on the rise and products like GoPro, the Polaroid Cube, Sony x1000v, or Xiaomi's Yi Camera are commonplace in today's consumers' hands. It's unlikely that modern users today don't possess at least some sort of additional video recorder in addition to their mobile device.
But people are always on the lookout for something new or different from what others are using. PIC acts like an action camera, but appears like a fashion item. Getting away from the plain black camera bodies of old. With PIC, it'll change your mundane day-to-day lifestyle and bring fun and excitement.
PIC can be bent and twisted and folded in any fashion to be mounted freely to an ankle, wrist, bikes, bags, and more.
Its unique design and appearance allows the capturing of shots from different and unique angles unlike any camera before. The need for selfie sticks? Gone.
PIC comes in 5 basic colors for its basic model along with 7 additional character models. New characters will be added to the lineup as the company continues to expand its collaboration with other companies in licensing fun characters for everyone to enjoy.
With PIC's April 20th campaign release on Indiegogo, users will get a peak at the initial lineup of products in its 5 basic colors and 7 different character models. The boud's (Bridge of Unique Design) company website expected launch date is for May 2015 (www.flexcampic) with expected delivery of the first batch in September.
Share: