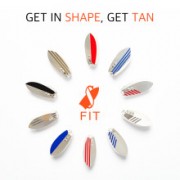 An activity tracker, skin care advisor and smart tanning timer all in one small smart clip-on device. Get in shape, Get tan with SFIT.
Seoul, South Korea, August 4, 2015 (Newswire.com) - Everyone aspires to live a healthy lifestyle but often quickly lose sight of this goal amid the hectic demands of their modern lifestyles. Health is not only maintained through a regular exercise routine, but also by taking care of your body including skin-health. Long-term change to well-being can only be achieved through this sort of holistic approach to remaining conscious of health.
SFIT embodies this multi-faceted approach to health by combining an activity tracker with a skin care advisor and a smart tanning program.  As exercise is one of, if not the most important factors in health, SFIT is outfitted with 3D accelerometer technology that has all the functionality of the latest activity trackers. While keeping track of fitness progress, daily/weekly/monthly goals can be set to develop a regular exercise routine.
Often attention is not paid to maintaining a regular skincare routine, but skin with healthy moisture-levels is not only attractive but can prevent life-threatening health risks.  Even a few minutes of exposure to excessively high UV rays can cause direct and immediate damage to your skin. Dried-out skin will become flaky and develop blemishes from the breakage of small blood vessels. Extended moisture deficiency in skin will damage the lower layers of the skin causing aging and loss of the skin's natural elasticity.  Skin dryness also is a primary cause of vulnerability to bacterial skin infections as well as risk of skin cancer.
SFIT helps you maintain proper skin health in two ways: a skin care advisor and a smart tanning timer. The skin care advisor function takes an immediate reading of your skin's moisture levels when SFIT is placed on your skin. Using bio-impedance measurement technology, SFIT runs a micro-ampere current through only the outermost layer of the epidermis. Unlike other bio-impedance technology that measures entire body composition, SFIT is much more precise by measuring only this isolated part of the body.  After taking a reading, SFIT will provide real-time feedback and suggest precautionary measures.
Finally, for the increased risk of skin damage when tanning, SFIT has a smart tanning timer function.  The SFIT's UV sensor will first gauge whether current UV levels are safe to tan. Then, after desired skin tone is selected, SFIT will set a timer that not only counts down and alerts but also shortens or lengthens tanning time based on changing UV levels.
All of these functions are possible with SFIT, a tiny surfboard-shaped accessory that can be worn in a variety of fashionable ways. Given its small lightweight design, SFIT can be worn as a necklace or a bracelet accessory and can clip practically anywhere on any outfit. 
SFIT was designed by GPower, who consider SFIT the second generation of SKINPET, their revolutionary skin/health care wearable device. After two years of collaboration between both skin care and wearable device professionals, SFIT is finally ready to be unveiled.
Check out their crowdfunding campaign currently being run on Indiegogo.