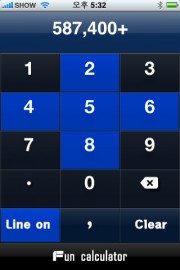 Use your mobile phone's number pad to make calculations. No apps, no widgets.
Seoul, South Korea, July 8, 2015 (Newswire.com) - Okyunsun Idea Group (okyunsun.modoo.at), a design and tech company located in South Korea and whose core competencies are idea development and invention, has announced a new calculator technology that does not necessitate any special control from the cell phone keyboard.
Unlike existing calculator applications that are launched using a separate application, this patented technology can be used without the need for any additional controls from a mobile phone keyboard.
The application uses the phone's number pad to enter in digits and utilizes the touchscreen's swipe recognition features to draw out '+, -, *, /, =' to complete the calculations.
For example, '86-23' would be entered by pressing '8', '6', swipe over '4,5,6' to create the '-' (minus) symbol, '2', '3', and then swipe over '4,5,6' and then '7,8,9' to complete the '=' (equals) sign. (see video for a demonstration).
All 5 of the equation symbols are generated by using swipe features over the number pad and provides an added convenience and simplified way of doing quick equations.
Okyunsun Idea Group is planning on discussing this technology with domestic and foreign smart phone manufacturers and application related companies.
Okyunsun Idea Group specializes in the creation and invention of ideas and continuously generates new ideas in technical development and design.