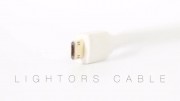 An innovative twist on the most widely standardized cable for Android devices and all smartphone accessories, Lightors Cable brings the convenience of Apple's Lightning cable to anyone that uses an Android device and everyone that uses any type of mobile accessory.
Seoul, South Korea, July 8, 2015 (Newswire.com) - From the company that launched the world's first micro-USB rechargeable batteries (Lightors Batteries), Lightors Cable is the next iteration of the company's innovative mission to create convenient products to help people in their everyday lives. Lightors Cable is an innovative reversible micro-USB cable for all smartphone users that have the same problem with asymmetrical shaped charging cables. The problem with existing micro-USB cables is that data transmission is only allowed on one side, which means the cable must be plugged in the proper way and can easily be broken if plugged in the wrong way.
Coming from South Korea, engineers Phillip Kim and Michael Cho have solved this issue by inventing a multi-layered symmetrical hexagonal shaped reversible cable.
Hoping to become a hot issue as Kickstarter's next big campaign, Lightors Cable's internal wiring is also twice as fast when charging and transmitting data with a surprising 16 internal wires that's safely protected by double shielded sockets. It may take tenths of a second more to plug in Lightors Cable when compared to Apple's Lightning cable, but it's comparable because of its fast charging and data speeds and its reversible feature.
Another one of Lightors Cable's innovative features is that it offers Braille on it for improved convenience for the visually impaired. Existing methods to resolve accessibility issues for smartphone users have been applied at the OS level such as zoom, voice overs, colors, etc., but not at the smartphone accessory level.
Micro-USB cables are a necessity in today's world for anyone with a smartphone or a smartphone accessory. Smartphone accessories can account for 10 times the amount of existing Android devices out there. That means the average smartphone user could have 10 accessories to go along with their phone, and likely all using micro-USB cables for charging. Lightors Cable recognizes the little inconveniences in everyday life and offers a solution that is helpful to everyone.
Check out their newly launched Kickstarter campaign here.