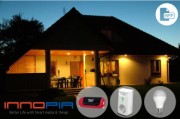 Innopia introduces MagicHome, the smart home starter pack to control lights and home appliances through a TV/monitor or smartphone from anywhere at anytime.
Seoul, South Korea, September 7, 2015 (Newswire.com) - Existing smart home packages are focused on home security or home energy savings. However, there are numerous parts to install and difficult to setup. This is why a lot of people are reluctant to start using Internet of Things (IoT) products for the home. MagicHome's starter package is an easy to use smart home solution that utilizes IoT in an efficient manner. MagicHome was developed using the AllJoyn open-sourced framework from the largest IoT consortium, AllSeen Alliance, which consists of Qualcomm, LG, Microsoft, SONY, Cannon and 180 other corporations as members. Innopia is the second corporation to join the alliance from South Korea following LG's entry in 2014.
MagicHome is a smart home starter kit that consists of a MagicCast HDMI stick, a smart LED wi-fi bulb, and a smart power plug. The HDMI stick plugs into a TV or monitor's HDMI port to allow control of the smart bulb and smart plug. All three devices connect to a home's wi-fi network for easy control and adjusting. A separate smartphone app allows control through wi-fi as well, but also out of the house using any LTE or 3G network. Check to see what devices are currently on and consuming the most energy through the TV's UI or the smartphone app UI.
MagicCast comes with its own UI and will display on a TV or monitor's display to for easy control. Through the TV and app UI, users will be able to see what plugs and bulbs are active, how much energy they are consuming, expected energy usage, and other diverse media services. Additional features such as home entertainment, home automation, multimedia services, and remote mode allows users to customize and automate scenarios such as watching a movie and having the lights dim or having the lights in the home turn on while on the way home or even having the bulbs alter in brightness while playing games.
When out of the house, check plug and bulb status to turn on or off any devices that are connected in real-time. Never worry about leaving on appliances when leaving the house ever again.
MagicHome is currently running a crowdfunding campaign on Indiegogo located here. For more information, check out the campaign page.