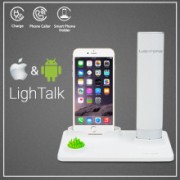 More and more, mobile devices are replacing the house phone or office phone as the primary means of communication. Although highly convenient and smart, mobile phones are limited when being used to talk. LighTalk Bluetooth Handset allows users to talk on the phone while sending texts, check emails, etc. all from their mobile device simultaneously.
Seoul, South Korea, June 5, 2015 (Newswire.com) - As smartphones began to appear on the market, along with them came numerous accessories. From different types of cases, earphones, battery packs, Bluetooth devices, etc. the smartphone accessory market is vastly growing. LighTalk, produced by Lightors (micro-USB rechargeable batteries, smart detergent), brings a new era of smartphone handsets. A Bluetooth Handset Dock that charges your phone while allowing you to make calls using its ergonomic and lightweight handset. The dock acts as a charger, caller, holder, all-in-one, and the design will fit in perfectly with any home or office interior and looks like any other telephone handset.
LighTalk will charge a smartphone in its dock while the handset may be used freely without any constraint. If a user receives a text or email, simply take the phone out of the dock and check and respond freely.
One of the major benefits of using LighTalk is the reduction of electromagnetic exposure while using a smartphone. While smartphones have been out for some time, the effects of electromagnetic exposure are yet unknown. LighTalk allows users to talk on the phone while keeping the device away from the head.
The devices range goes anywhere from 10 to 30 meters without interference with excellent sound quality and pairing is super easy.
Compatible with any iPhone or iPod that utilizes Apple's lightning plug (MFi certified) and any Android device, LighTalk hopes to enter the market via their crowdfunding campaign on Indiegogo.  Be sure to check out their Indiegogo campaign and support LighTalk.