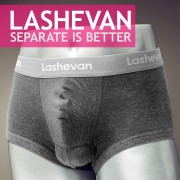 The problem with traditional men's underwear is that while they do the job of providing support, there have not been many strides in the advancement of protecting men's health. Lashevan is the only underwear that's proven to keep men at a safe temperature of 92 degrees Fahrenheit.
Seoul, South Korea, November 30, 2015 (Newswire.com) - The secret to Lashevan's separation is in its silicon band. The band keeps the structural design of the underwear intact. This allows separation of the penis, scrotum, and thighs from rubbing against each other. This is how Lashevan is able to keep the groin area at a lower, safer temperature. On the rear of the underwear, the band prevents uncomfortable riding up and clinging while conforming to unique body types.
The silicon band is also intricately intertwined with Deotech threading that helps deodorize and maintain a balanced pH. The odor masking is done naturally and not with chemicals. The deodorizing technology also does not lose its properties despite repeated washing.
Other underwear on the market is usually created using polyester or blended cotton fabrics. Although they are durable and cheap, they do reduce humid conditions. Lashevan is constructed of high quality Tencel fibers that have been derived from natural eucalyptus leaves. The material is 100% natural and has natural cooling properties due to its breathability. This also aids in the prevention of unwanted bacterial growth and is great for those with sensitive skin.
Vigorous infrared testing was performed to see just how effective Lashevan is. The underwear lower body temperature at approximately 92.3 degrees Fahrenheit. This is lower than average body temperatures and the ideal temperature for testosterone maintenance. Low testosterone in males can lead to reduced sex drive and sperm production while also reducing the ability to regulate fat and muscle build up.
Lashevan's Indiegogo campaign has just launched and is available here. The campaign offers multiple perks with different quantity and four different designs. Check out the campaign for further details on how Lashevan works