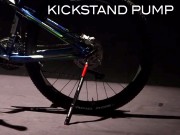 Leeman Co., Ltd., a startup out of South Korea specializing in innovative bicycle accessories, has developed a unique and first of its kind kickstand that has a built-in tire pump that can fill up to 120psi, built-in LED backlight for safety, and a built-in tire lever for removing flats
Seoul, South Korea, April 6, 2015 (Newswire.com) - Bike enthusiasts everywhere know the pains of riding long distances and having to carry around additional tools just in case something goes wrong while out for a ride. Tires can get low on pressure, the inner tube may pop and a tire replacement may be needed, or even something as simple as riding at night and being visible to other riders or cars. Traditionally, separate tools are needed to address each of these issues individually and can be quite cumbersome to pack before riding. Something so basic, yet crucial when out riding, having a tool that can address all these issues simultaneously, all while being the size of a standard bike kickstand is a lifesaver.
Constructed from high quality aluminum alloy, Kickstand Pump is a sturdy kickstand, tire pump, LED taillight and tire lever all-in-one. The kickstand replaces any 26", 27.5", and 29" tire size kickstand that uses Shrader and Presta tire valves. Dunlop vales are not currently supported.
Kickstand Pump is also light in weight while being multi-functional. A standard pump, kickstand, taillight, and tire lever will easily weigh over 400g adding additional weight to the rider and the bicycle. Kickstand Pump weighs in at a little over 200g while performing all of the above mentioned functions in creatively designed product.
Kickstand Pump is easy to use. Just remove the stand from the bicycle, unscrew the LED taillight at the end, and remove the pump hose that resides inside Kickstand Pump. The hose is attached to the exterior of Kickstand Pump and can instantly pump tires up to 120psi. Kickstand Pump's pressure is so impressive that it can even be used to pump up motorcycle or automobile tires as well.
The LED taillight can be turned on in 3 different patterns and turned off with a simple switch. The built-in tire lever is also how Kickstand Pump connects to the bicycle frame. Unlike other cheap plastic tire levers, Kickstand Pump's tire lever is crafted from sturdy aluminum alloy and uses Kickstand Pump's body to provide better leverage when removing tires to access the inner tube.
Kickstand Pump comes in either black or carbon-fiber pattern with an additional Silver option being offered as a Stretch Goal through their Kickstarter campaign.
Share: