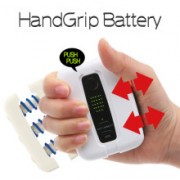 A Portable Charger + hand gripper exercise tool + many outdoor utility functions all in one
Seoul, South Korea, May 11, 2015 (Newswire.com) - ​HandGrip is a handy portable charger used to fuel up mobile devices including smartphones and tablets that doubles as a hand gripper, a great training tool to exercise your hand and wrist. HandGrip is meant to provide a great value of convenience to smartphone users. It is not just a portable charger anymore, but a multi functional tool with improved applications.
More and more time is spent using smartphones so often that people run out of juice because there's no place to charge devices. The introduction of the external battery has made great strides to provide portable power solutions for users on-the-go.
HandGrip is a palm-sized handgripper that helps increase hand and wrist strength while also charging your mobile device. According to studies, gripping exercises helps with brain activity improvement, fatigue recovery, and high blood pressure prevention. Gripping helps you overcome fatigue and improve physical fitness by engaging the nerves in your fingers and stimulating blood vessels. Thus, simple exercises like hand gripping can increase productivity and efficiency while you work through enhancing the interaction between the body and the mind.
HandGrip was developed by two Korean engineers (Keumyoung Jo and Daehyun Kim) and has multiple built-in features aside from being a portable charger and hand gripper.
It's powered using 2400mAh lithium polymer batteries that are fully charged in 1.5 hours. All types of smartphones can be fully charged within 2 hours using HandGrip and has a built-in chip for faster charging time and energy efficiency.  
There are three additional outdoor functions available for Handgrip.
The first function is a flashlight that's just as bright as other flashlights and has three levels of brightness for efficient use of the battery.
The second function is an insect repeller using ultrasound to keep mosquitoes and other insects away. It contains a wave generator which produces the sound of male mosquitoes to repel female mosquitoes that bite. High-frequency wave repels flying insects like mosquitoes and flies and low-frequency wave repels crawlers like spiders, cockroaches and mites.
The third function is an SOS alarm system that's designed to make flashing lights and alarm sounds by simply pressing the button. It's a perfect self-protection device. The idea comes from a deep understanding of the needs of people who spend much time enjoying the outdoors.
HandGrip comes in two colors, white and black, at the price of around $59.
HandGrip has launched on Indiegogo and will be open until June 10 and has already received support from around the world on its first day of funding.