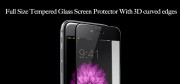 The quintessential glass for the iPhone 6 / 6 Plus. Heat bended Gorilla Glass that covers your entire screen. No gaps. No seams. A beast of a screen protector to protect the beauty of the iPhone.
Washington, DC, May 21, 2015 (Newswire.com) - Smartphone users, especially iPhone users have one complaint in common: the front screen that's vulnerable to impacts or scratches. Plastic screen protectors are good, but prone to get scratched from daily use. Existing glass protectors are also good, but do not cover the entire front of the curved iPhone 6 screen. This can potentially lead to cracked edges and finger injuries.
Now comes a new solution to all of these problems. Granclair's Clair Noble 3D Curved Glass Screen Protector is made of 100% Gorilla Glass; the world renowned material from Corning. Its edges are curved perfectly to match the iPhone 6 and iPhone 6 Plus' curved screen edges and is made from heat tempered glass. The glass is highly durable against scratches from even knives or drills. Granclair uses a special heat bending technology to cover the entire the screen and its curved edges without those annoying bubbles.
At only 0.22mm in thickness, Granclair's glass is ultra thin and can fit most cases or bumpers that do not protrude over the edge of the screen. Popular cases from Apple, the Air Jacket, Ringke, and Magpul are all compatible with Clair Noble as long as the edges of the screen are not covered by the case. As an added gift, a free Touch ID cover is available so that the depth between the screen protector and the original Home button is not noticeable. The Touch ID cover is fully compatible with Apple's Touch ID scanner and will not interfere with the functionality of the Touch ID sensor.
Granclair's 3D Glass Screen Protector is proven to resistant from scratches, impacts, and water drops, making it the perfect screen companion for the iPhone 6 and iPhone 6 Plus.
Launching their campaign on Kickstarter, users will be able to back the project until June 19th at a reduced cost from the expected retail amount.
Share: