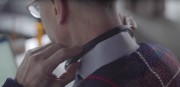 With over 700 million (97%) deaf and 1.1 billion people (15.3%) with hard of hearing around the world, one would expect more advancements in products designed to help people with everyday tasks. Nuguna Neckband is the first device that alerts users of surrounding noises to prevent mishaps or notify when something is going on around them.
Seoul, South Korea, April 7, 2016 (Newswire.com) - Nuguna Neckband addresses the issues that many deaf or hearing impaired people deal with on a daily basis. From receiving phone calls to receiving guests, it's hard to know if something is going on it cannot be heard. Whether the phone is ringing or someone is at the door, being made aware can mean all the difference. Perhaps the microwave is beeping after cooking up some popcorn, or the TV is left on, not knowing what's happening can be frustrating and potentially dangerous.
Nuguna Neckband comes with left and right directional dedicated microphones in combination with dedicated left and right vibration motors to notify users of their surroundings. If a noise is generated from either direction, Nuguna Neckband will vibrate on a particular side to let users that something is going on and to be on the lookout. Not just for indoor use, users can be warned when outdoors of oncoming cyclists, cars, alarms, etc.
The neckband's sleek design makes it look like users are simply wearing any one of the latest Bluetooth earphones out there on the market today.
Using Bluetooth 4.1, Nuguna Neckband comes with an associated app that allows microphone and vibration sensitivity customization as well as setting specified hours of operation to not be bothered when sleeping or in a quiet environment. Fully charged in under 2 hours, Nuguna Neckband will operate for approximately 18 hours with a standby time of 300 hours.
Being offered in either classic black or white, Nuguna Neckband will be launching an Indiegogo campaign in mid March to launch their product. Please be on the lookout for their campaign and sign up for updates through their landing page here.
Share: